A helping hand is only a call away.
United Way of the Brazos Valley facilitates the 2-1-1 Texas program servicing the Brazos Valley. 2-1-1 Texas is a free information and referral call center, connecting residents to community resources. Whether you need help finding child care, food pantries, care for an aging friend or programs for substance abuse, 2-1-1 Texas is the number to call when you don't know who to call. 
Trained Information & Referral Specialists are available 24 hours a day, 7 days a week and services are available in over 90 languages.
What We Do
2-1-1 Texas offers a wide variety of referrals including:
Food, shelter, utility assistance, housing and rental assistance, employment assistance, child care, health care, immunizations, voting precinct locations, prescription assistance, counseling and many more other needs and services.
Find resources online by clicking below!

Join the 2-1-1 Texas Database
If you would like your agency or organization to be considered for inclusion in the 2-1-1 Texas database, please review our Inclusion/Exclusion Criteria. If you feel that your Agency fits our inclusion criteria, please contact Kat Gammon, VP Community Impact, at 979-696-4483 x. 113 or at kgammon@uwbv.org.
Disaster Response
2-1-1 Texas is the point of contact for communicating resources for active disasters as well as long-term recovery efforts. 2-1-1 Texas works closely with local city and county emergency managers to distribute accurate information to the public. 
Our role in disaster includes answering urgent caller requests for information, updating our database with active/rapidly changing information and addressing rumors and misinformation.
Are you interested in becoming a 2-1-1 Disaster Volunteer? Contact Hilda Salazar, 2-1-1 Manager, at 979-696-4483 x. 110 or at hsalazar@uwbv.org.
Data Reporting
2-1-1 Texas compiles data from calls to create reports detailing caller demographics and pressing needs in the Brazos Valley. Click below to view the 2022 quarterly reports.
AIRS Accreditation
United Way of the Brazos Valley's 2-1-1 Texas program is an Alliance of Information & Referral Systems (AIRS) Accredited call center. This national accreditation provides:
An objective evidence of achievement in the areas of service delivery, resource database, cooperative relationships, disaster preparedness and organizational effectiveness
Demonstration of the commitment of our team to meet the highest standards in the field
Credibility to the community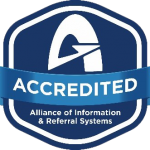 United Way of the Brazos Valley fights for the health, education and financial stability of every person in the Brazos Valley.